From the beginning of my writing on this website, I have covered a bunch of topics related to TV.
Among them, the issue of TV control was significant.
I mean, 30% of my readers came here solely to find out;
How can they power on their TV without a remote?
Is there a way to increase the volume of their TV without using the remote?
Are there any temporary solutions for operating a TV without a remote?
Well, there are hundreds of TV controlling remote apps out there, but only a few of them work best and have gained trusted reviews.
Some of them are universal and work with almost any type of TV, while others only work with specific brands and models.
However, let's find out some of the best TV remote apps that you can use.
Key reminder
Before you download any TV remote app, make sure to check its compatibility with your specific TV brand and whether your smartphone features an IR blaster or not!
Here's why:
IR Blaster: Some remote control apps, such as ASmart Remote IR, ZaZa Remote, and Mi Remote Controller, require your smartphone to have an infrared (IR) blaster built-in.
If your phone features this, you are lucky because you can then control your TV even when your mobile and TV aren't connected to the same network.
Wi-Fi Control: On the other hand, many universal remote control apps, including Peel Smart Remote, AnyMote Universal Remote + WiFi, SURE Universal Remote, and Unified Remote, offer Wi-Fi control options. These apps communicate with the TV or other devices over a Wi-Fi network instead of using IR signals.
This means you don't necessarily need an IR blaster in your phone, but your TV and mobile must be connected to the same Wi-Fi network to work.
However, here are the top-rated TV remote apps you may want to try:
1. Roku Mobile App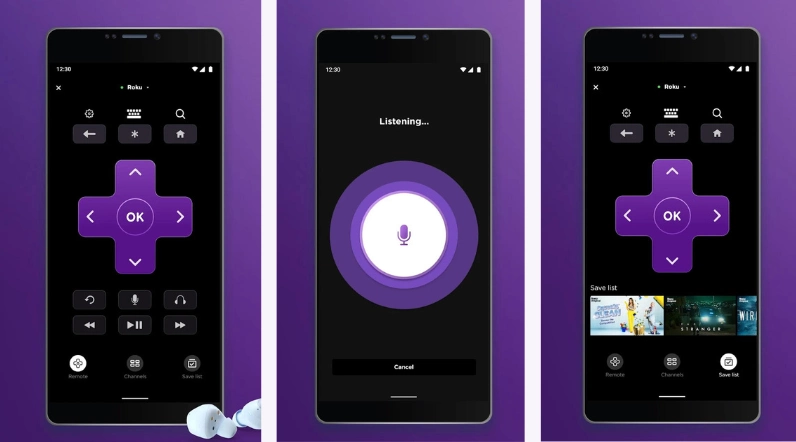 Let's start with Roku!
Roku dominates a significant portion of the streaming device market, so it's no surprise that their official Roku Mobile App is considered one of the best TV remote apps available.
This app is specifically designed to enhance the Roku experience and offers a host of features that make controlling a Roku device a breeze.
You can easily navigate through channels, control playback, and search for content using your smartphone's keyboard.
Additionally, you can use the app's "Private Listening" feature to enjoy audio from your Roku device directly on your phone.
⊗ Download from here.
2. SURE – Smart Home and TV Unive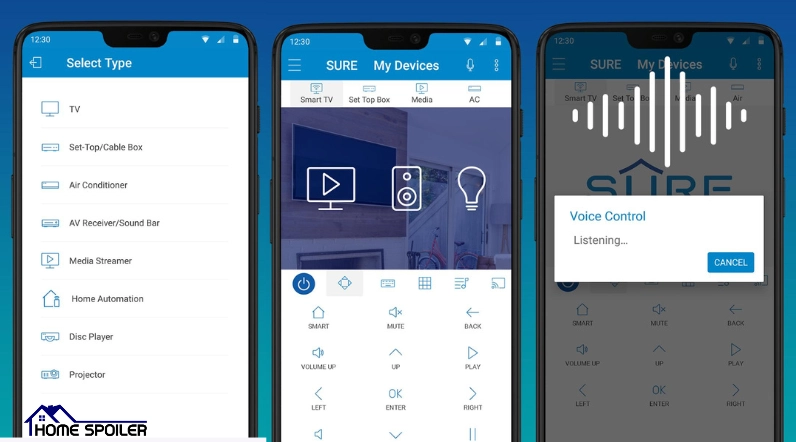 It's been my favorite remote control app since 2021, and I still use it as my second TV remote controller.
SURE goes beyond basic control functions. It supports TVs, set-top boxes, media players, and even smart home devices, allowing you to control multiple devices from a single app.
One of the standout features of SURE is its support for both infrared (IR) and Wi-Fi control options.
This means that if your smartphone has an IR blaster, you can use it with SURE to control devices that rely on IR signals. However, even if your phone lacks an IR blaster, SURE can still communicate with supported devices over Wi-Fi.
The app also supports voice control, allowing you to interact with your devices using voice commands.
This hands-free functionality adds an extra level of convenience and accessibility to your home entertainment system.
⊗Download from here.
If you're looking for a recommendation, I would suggest trying out the Sure remote app. It's absolutely fantastic, and once you give it a go, you'll be smitten with it and won't ever want to switch!
3. AnyMote Universal Remote + WiFi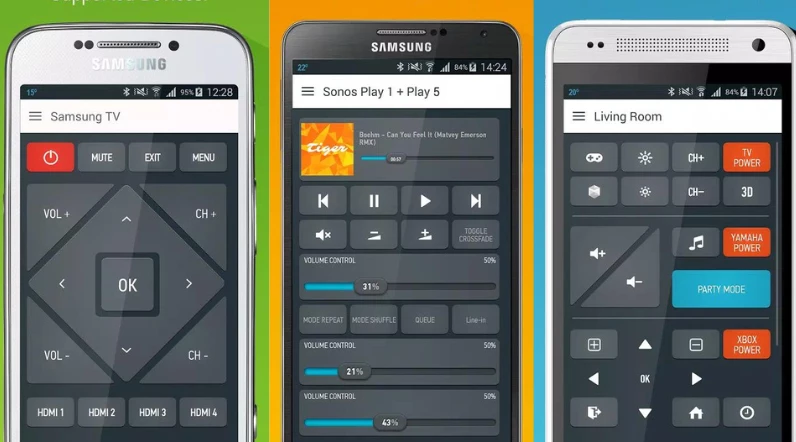 AnyMote is a powerful and highly compatible TV remote app that supports over a million devices.
Whether you have a TV, streaming box, audio system, or other home entertainment devices, AnyMote has got you covered.
One of its standout features is the customizable interface, which enables you to personalize the remote control layout to suit your needs. AnyMote also supports macros, allowing you to automate sequences of commands, making it great for setting up specific activities like "Watch a Movie" or "Play Video Games."
⊗ Download from here.
4. Unified Remote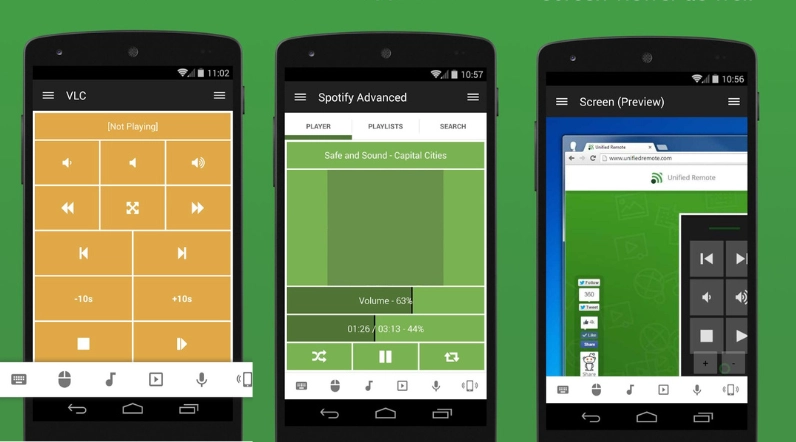 Though it's less popular among TV owners, Unified Remote is a powerful and amazing remote control app.
Unified Remote takes a different approach by allowing you to control your computer, media players, and smart TV through your smartphone.
It offers a vast collection of remote controls for different applications and systems, including Windows, macOS, Linux, and popular media players.
Not only can you control your TV with Unified Remote, but it is also widely used for controlling a PC or laptop.
With Unified Remote, you can adjust volume, navigate media, manage presentations, and more, all from the convenience of your phone. This app is particularly useful if you want to control your TV, computer, or media center from a distance.
⊗ Download from here.
5. Peel Smart Remote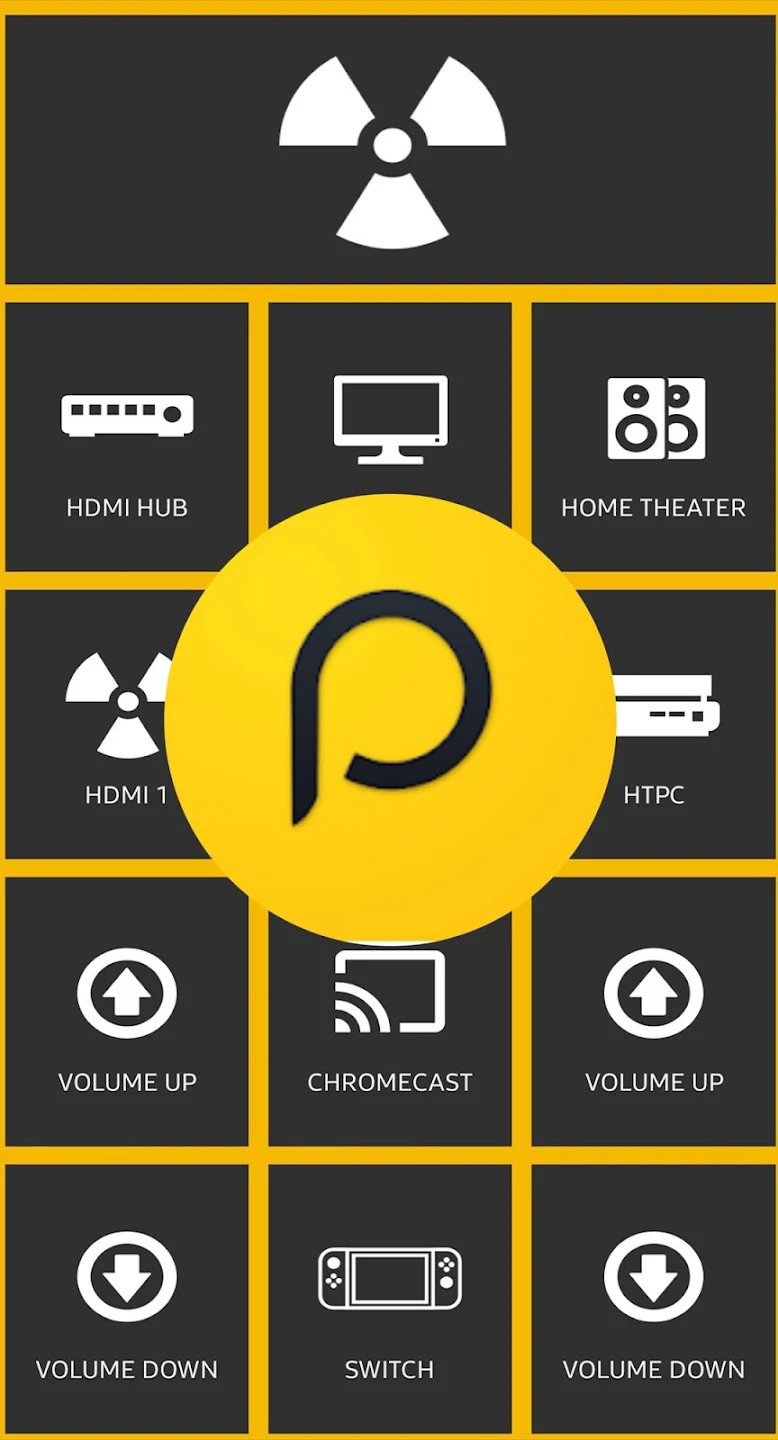 If you are tired of fumbling around with your TV remote, the Peel remote app may be the answer to your problem.
It is typically known for its versatility and broad compatibility.
The app supports a wide range of TVs, cable/satellite boxes, streaming devices, and home theater systems.
What sets Peel apart is its personalized TV guide feature, which allows you to discover new shows and movies based on your viewing preferences. The app also provides a unified interface for controlling multiple devices, making it convenient and user-friendly.
⊗ Download from here.
---
F.A.Q.s
Q: What is a TV remote app?
TV remote app is a mobile application that allows users to control their television sets using their Android or iOS devices, such as smartphones or tablets.
It functions as a virtual remote control, offering similar features and functionalities as a physical remote.
Q: Can I control multiple TVs with a single remote app?
It depends on the app you are using. Some TV remote apps support controlling multiple TVs simultaneously, as long as they are connected to the same Wi-Fi network.
However, not all apps offer this feature, so it's important to check the app's description or features list to confirm multi-TV support.
Q: Do TV remote apps require an internet connection?
Yes, most TV remote apps require an active internet connection.
They use Wi-Fi or Bluetooth connectivity to establish a connection between the mobile device and the TV. The TV and the mobile device need to be on the same network for the remote app to work properly.
Q: What features can I expect from a TV remote app?
TV remote apps usually offer basic functionalities like changing channels, adjusting volume, navigating menus, and powering the TV on or off.
However, some advanced apps provide additional features like a touchpad for mouse-like control, voice control, keyboard input, media casting, and access to smart TV features.
Q: Are TV remote apps secure to use?
Most TV remote apps are designed with security in mind and pose no significant risks.
However, it's essential to download apps from trusted sources like the official app stores (Google Play Store for Android, App Store for iOS) to minimize the chances of downloading a malicious or insecure app.
Q8: Can TV remote apps replace physical remote controls entirely?
TV remote apps can be a convenient alternative to physical remote controls, but whether they can fully replace them depends on personal preference.
While apps offer more features and flexibility, some users still prefer the tactile feel and simplicity of physical remotes. Additionally, having a physical remote control can be useful as a backup option in case of app malfunctions or device battery drain.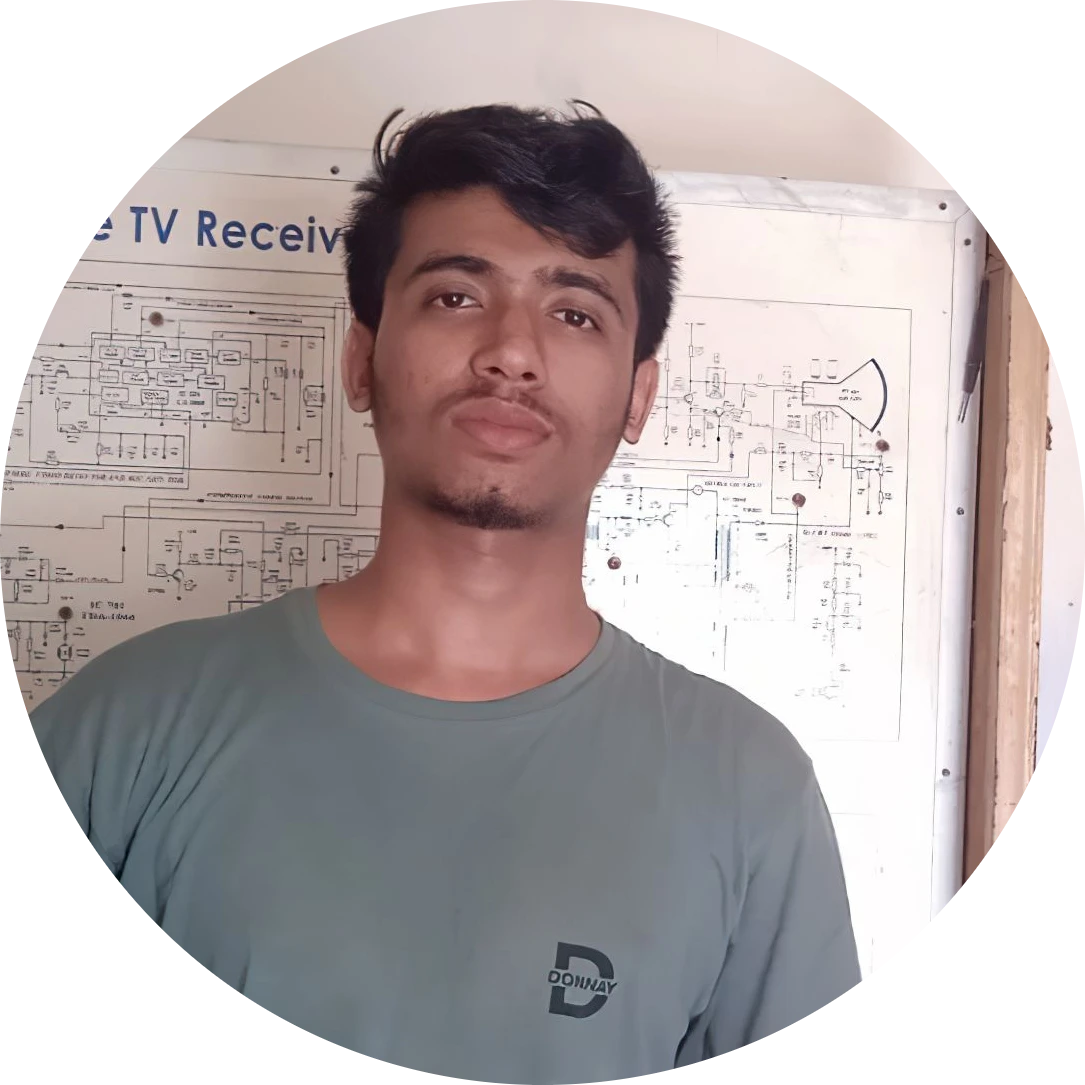 Abdul Kader, a handy guy and experienced founder of a TV repair shop in Gulshan, Dhaka, Bangladesh. He is mainly an expert in understanding and repairing different types of issues with Smart TVs and providing helpful insights on how to keep them in good working order. Read his Full Story.