I'm a big fan of music, and I'm always on the lookout for new and cool ways to enjoy my favorite songs.
Lately, I got to test the Groove Onn speaker, and I was really impressed by how well it worked.
In this article, I'll take a close look at the Groove Onn speaker to help you figure out if it's a good option for you.
I'll talk about its design, sound quality, price, and whether it gives you good value for your money.
In-depth Groove Onn Speaker Review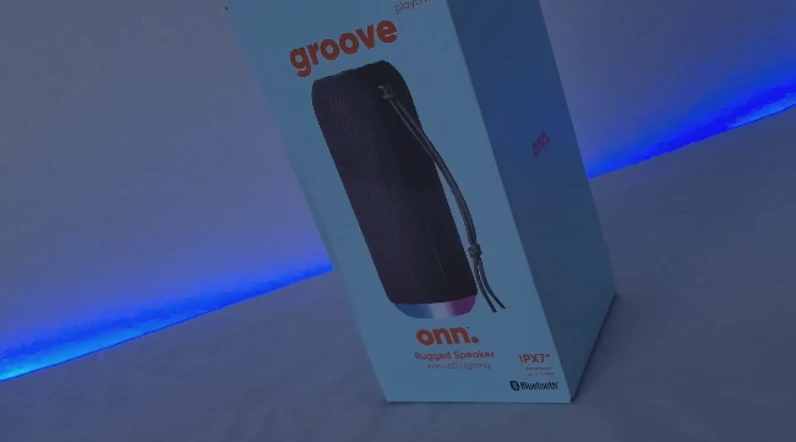 Pros:
High-quality sound output.
Multiple connectivity options
Long battery life.
IPX7 waterproof.
Cons
Lack of advanced features.
Durability concerns
1) Groove Onn Speaker review: Body Design
Now, let's talk about how it looks. The Groove Onn speaker has a sleek and modern design that's both small and stylish.
Its compact size means you can easily take it with you wherever you go, whether it's to the beach, on a hike, or just when you're chilling at home.
But there's more to it than just portability.
It also comes with LED lights at the bottom, which is great if you want to add some color and excitement to your outdoor activities.
2. Groove Onn Speaker review: Connectivity and Features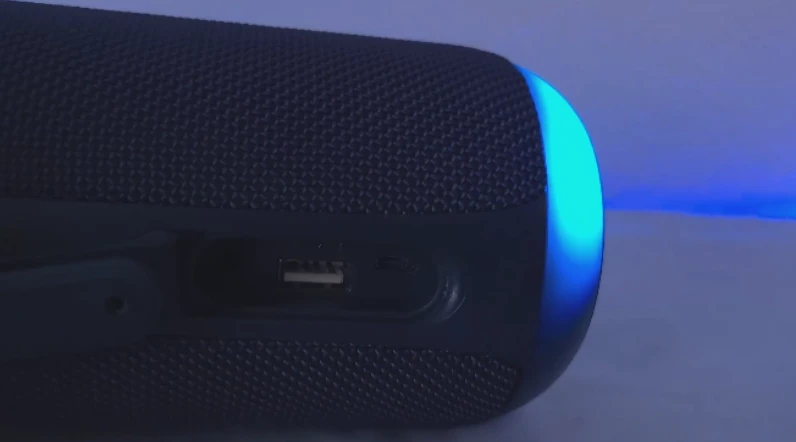 Like many portable speakers, the Groove Onn speaker can connect via Bluetooth.
But it goes a step further by offering a 3.5mm AUX jack, which lets you link your phone to the speaker without needing Bluetooth.
This is handy, especially if you have an older phone without Bluetooth.
Plus, those LED lights we talked about earlier not only look cool but also add to its design.
When it comes to toughness and reliability, it's got a long 10-hour battery life and an IPX7 rating, meaning it can handle splashes and even being briefly underwater.
This makes it great for the beach or pool. Plus, the battery lasts a long time, so you can enjoy your music without worrying about it dying.
You can also control your music and volume right from the speaker.
3. Groove Onn Speaker review: Sound Quality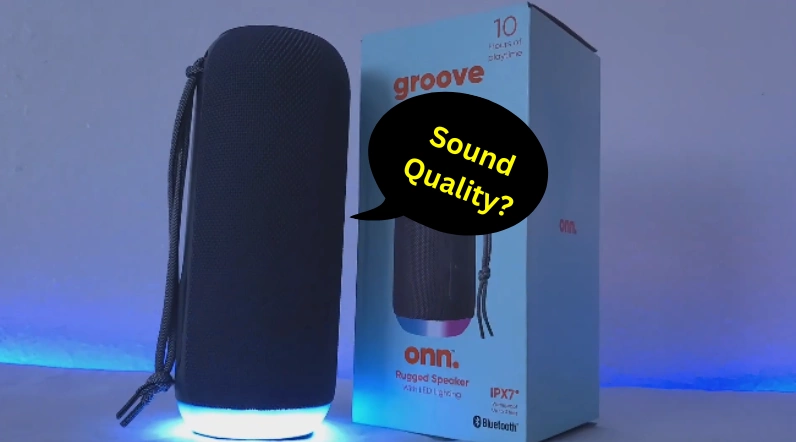 Despite its small size, it packs a punch in the sound department.
When you turn it on, you'll be amazed by how clear and high-quality the audio is.
Whether you're jamming to your favorite songs, catching up on a podcast, or just enjoying the sounds around you, this speaker gives you a rich and immersive listening experience like no other.
In my own experience with the Groove Onn speaker, I was really impressed by its deep and powerful bass. It adds a lot of depth and richness to the music, making it feel like you're right at a live concert. Personally, I love feeling that bass thump in my chest, and this speaker definitely delivers on that front.
Even if you're not a big bass enthusiast, I think you'll still enjoy the speaker's well-rounded and full sound.
It's a standout feature that sets the Groove Onn apart from other portable speakers out there.
4. Groove Onn Speaker's Price
The price is $39 (At the time of writing this article). However, it has sparked debates among consumers and reviewers.
Some folks feel that the price is too steep for a speaker of its size and features, while others believe it's reasonable, taking into account the brand's reputation and product quality.
In my view, the price is justified.
Their product quality is top-notch, and it's in line with what other similar brands charge. But, of course, the price ultimately depends on your personal preferences and budget.
Some are willing to pay a bit more for the brand's good name and the speaker's design and features.
---
Final Verdict
I've been using the Groove Onn speaker for three months, and I can confidently say it's a great choice for people looking for a small and stylish speaker with excellent sound.
It comes with LED lights that look cool, and you can easily connect it to your devices through Bluetooth or AUX. Plus, it has a long-lasting battery and can handle outdoor use without a problem, thanks to its IPX7 rating.
While some might think it's a bit pricey, I believe it's worth the investment because of its high quality and the reputation of the brand.
If you love music and need a portable speaker that sounds impressive, the Groove Onn speaker is worth checking out, especially if you're on a budget.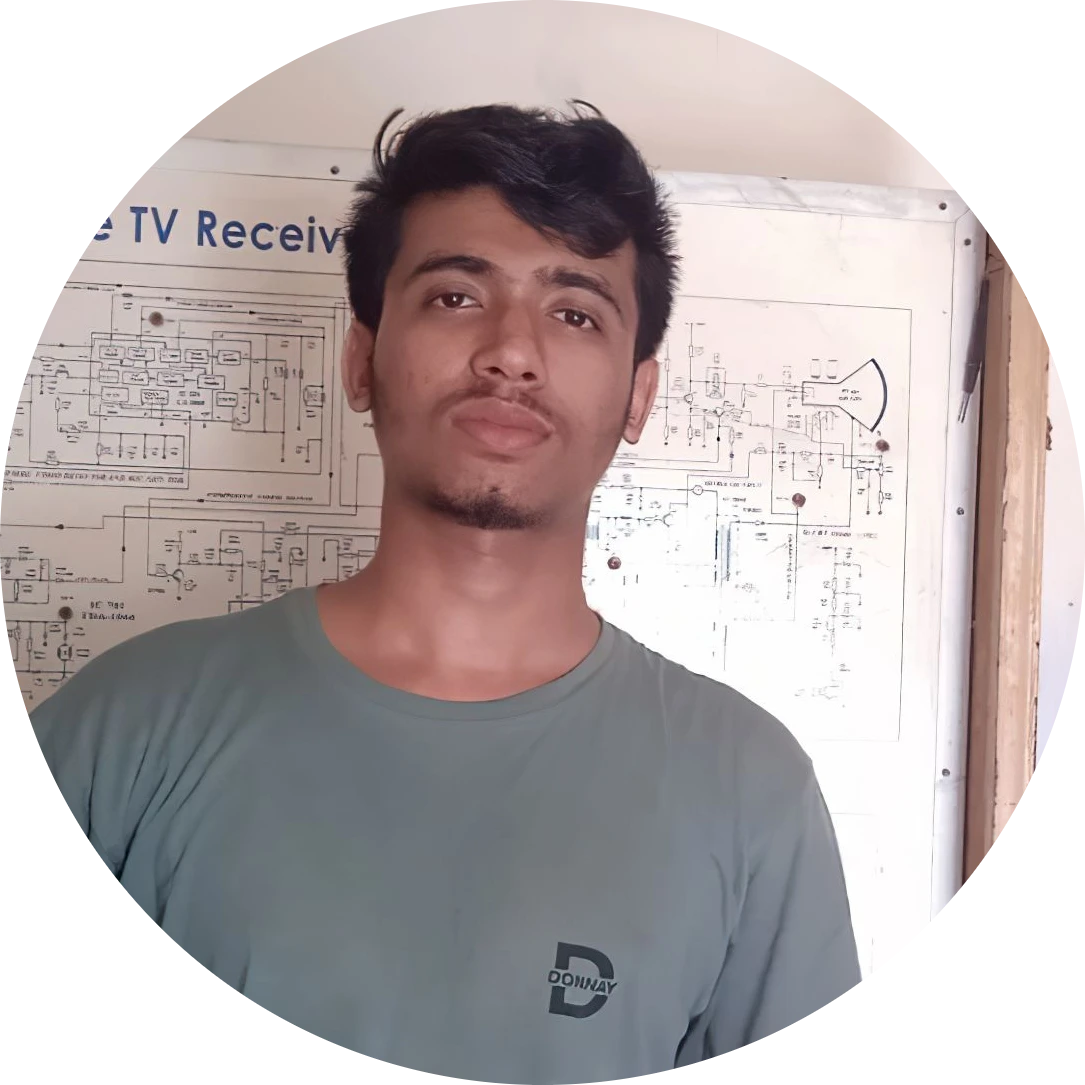 Abdul Kader, a handy guy and experienced founder of a TV repair shop in Gulshan, Dhaka, Bangladesh. He is mainly an expert in understanding and repairing different types of issues with Smart TVs and providing helpful insights on how to keep them in good working order. Read his Full Story.