To clean your Dyson Airwrap Filter, you just need five minutes.
The Dyson Airwrap has revolutionized hair styling, offering a versatile and efficient way to achieve salon-quality looks at home.
As with any high-performance device, it is crucial to maintain the Airwrap regularly to ensure optimal performance and longevity.
In this guide, I'll explore the essential steps for cleaning the Dyson Airwrap filter, attachments, whole body, and more, allowing you to keep your device in top-notch condition.
Let's dive in…
How to Clean Dyson Airwrap Filter
Twist the filter cage counterclockwise to remove it.
Wash it with warm water and a soft brush to remove debris.
Rinse again and let it dry.
Reinsert the filter and lock it back in place.
Here are the detailed guidelines:
Step 1: Power down

This is the first step in cleaning the device's filter, but it's crucial.
Make sure to unplug your device from the power source before you begin.
This will prevent the risk of any potential electrical shock while cleaning.
Step 2: Clean the Cage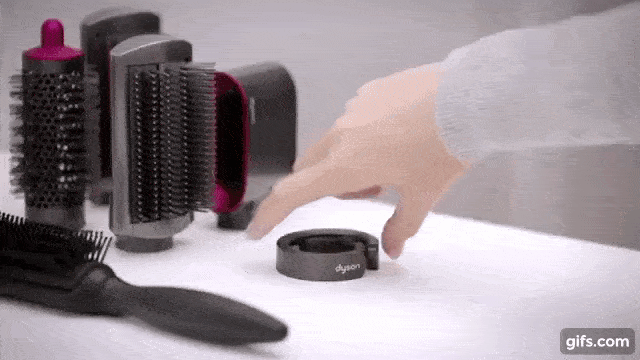 Take the filter cleaning brush and insert it through the cable.
After inserting the brush into the cable, glide the brush over the hair styler.
Next, rotate the bristles in a circular motion around the air filter.
You can even clean the filter with a small vacuum cleaner or a damp cloth, so don't worry if you misplaced the brush!
Step 3: Clean the Air Filter
Once you have cleaned the filter cage, pull it from the hair styler slowly.
Spin the filter cleaner brush around the uncovered air filter in a circular motion and blow away any accumulated dust.
Related: Do you know why Dyson Airwrap is so Expensive? (Read here)
Step 4: Wash the Filter Cage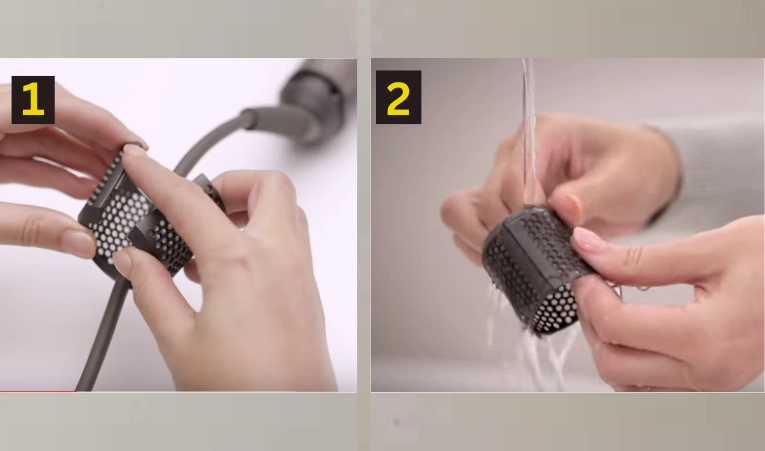 Pull the filter cage down onto the cable, and slide it off.
Then, wash the filter cage under warm tap water and allow it to dry completely.
Do not use any chemicals or liquids to clean the filter cage. Only use warm running tap water.
Step 5: Reinstall the Filter Cage
Finally, reinstall the filter cage in its place.
That's it… Enjoy your day 🙂
How to Clean Dyson Airwrap Attachments?
Cleaning the attachments is just as easy as cleaning the filter.
It doesn't require too much effort or time.
Here's how to clean the Airwrap attachments:
Take a mug of water and add a small amount of hair shampoo to it.
Shake the water until it becomes bubbly.
Place the attachment into the water and let it soak for about 30 minutes.
After the time has passed, take the attachment out and dry it completely before re-installing it.
Do not leave the attachment submerged in water for more than 30 minutes. There is a screw inside that can rust if it's left in water for too long.
Frequency of Cleaning the Dyson Airwrap
The frequency of cleaning depends on usage and environmental factors. As a general guideline:
Filter: Wash washable filters every month and replace non-washable filters every 3 to 6 months.
Attachments: Clean attachments after every use or at least once a week.
Exterior and Vents: Wipe down the body and vents every two weeks.
Dyson Airwrap Long-Term Care and Storage
Taking proper care of your Dyson Airwrap during extended periods of non-use or storage is essential to preserve its performance and prolong its lifespan.
Here's what I suggest:
1) Choose an Ideal Storage Location
When not in use, store your Dyson Airwrap in a safe and suitable place.
Ideally, keep it in its original box to protect it from dust and potential damage.
If the original box is not available, opt for a dedicated storage container or a drawer that keeps the Airwrap securely stored and shielded from external elements.
2) Maintain a Dust-Free Environment
Dust and debris can accumulate on the Airwrap's surfaces, affecting its appearance and performance.
To prevent this, store the device in a clean and dust-free area.
Consider placing it in a closed drawer or cabinet to minimize dust exposure.
3) Ensure Dry Storage
Moisture can be detrimental to electronic devices like the Airwrap.
Therefore, choose a dry storage location to prevent any water damage or corrosion.
Avoid storing the Airwrap in humid areas like bathrooms or near water sources.
4) Avoid Direct Sunlight
Prolonged exposure to direct sunlight can cause discoloration and damage to the Airwrap's materials.
Keep it away from windows or areas with excessive sunlight to maintain its appearance and functionality.
5) Protect the Power Cord
When storing the Airwrap, be mindful of its power cord.
Gently coil it and secure it with a Velcro strap or a twist tie to avoid tangles or kinks. This ensures the power cord remains in good condition for future use.
6) Keep Away from Heat Sources
Avoid storing the Airwrap near heat sources like heaters or radiators.
Exposure to high temperatures can lead to warping or damage to the device's internal components.
---
F.A.Q.s
Q: What will happen if I don't clean the filter?
If you neglect to clean your device on a regular basis, dust and debris can clog it, causing it to overheat, flash a red light, or even stop working altogether.
Q. My Airwrap filter smells bad after cleaning! Why?
If your Dyson Airwrap smells bad after cleaning the filter, there are a few things you can do to fix the problem.
First, ensure you have properly rinsed the filter cage with clean water. You may also need to replace the filter if it is old or damaged.
If the problem persists, you can try cleaning the Airwrap filter cage using warm water with soap.
Q. How frequently should I clean my Airwrap filter?
At least once a week!
Because the Airwrap's internal components are protected from contaminants by the dual-layered filtration system, which has an 85-micron mesh, it can clog easily because of its tiny holes.
Therefore, you should clean your Dyson Airwrap filter once a week.
Q. My filter has broken. Can I use the Airwrap without it?
No. It is never recommended that you use your hair dryer without a filter.
But if you believe you need to replace it as soon as possible and do not have time to clean the filter, you can purchase a spare or replacement from an online reseller.
Q: Can I use compressed air to clean the Dyson Airwrap filter?
No, Dyson does not recommend using compressed air to clean the Airwrap filter.
The high-pressure air can damage the filter and potentially release trapped debris back into the air.
Q: How long does it take for the Dyson Airwrap filter to dry after cleaning?
The drying time for the Airwrap filter depends on the humidity and temperature of the surrounding environment.
On average, it takes around 2 hours for the filter to dry completely.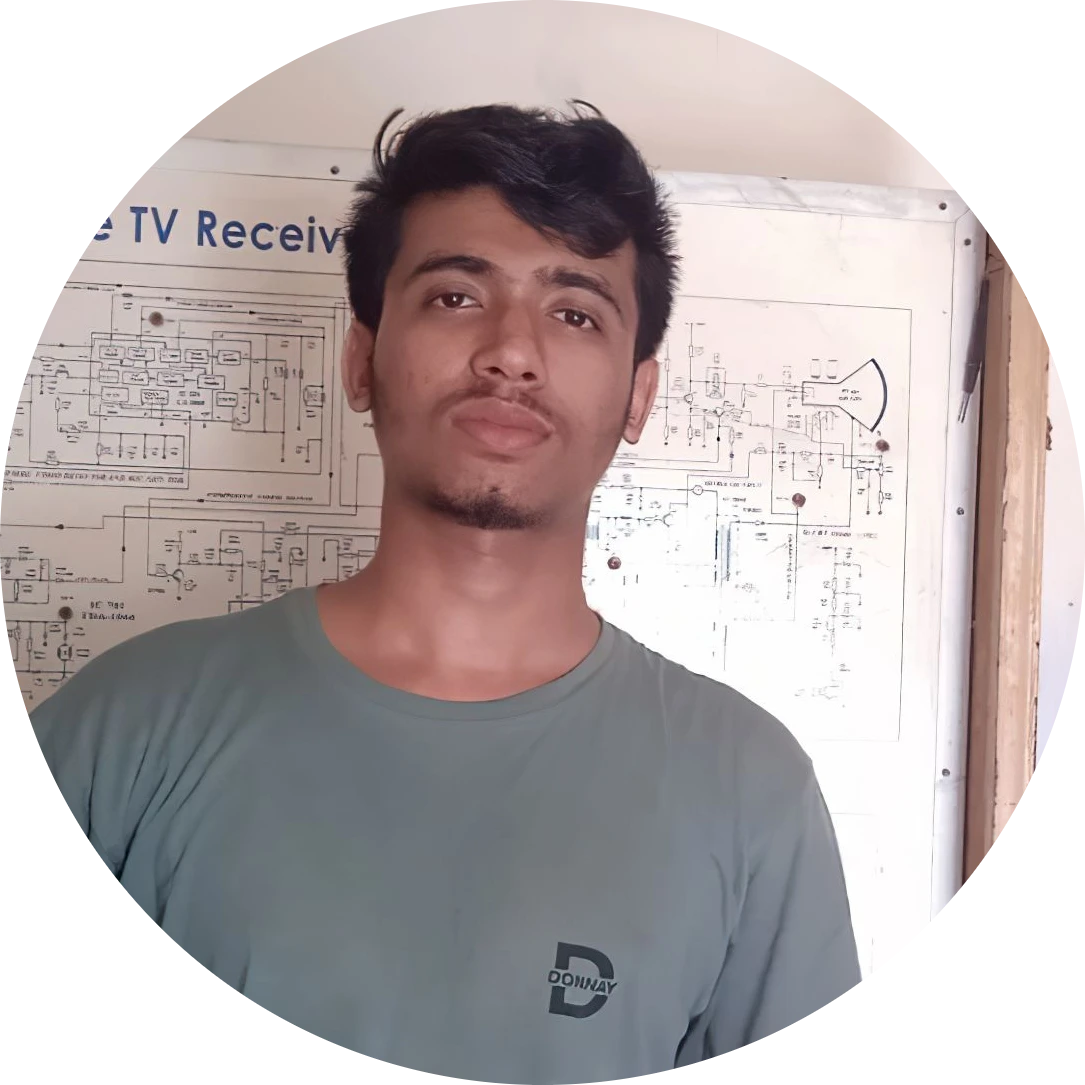 Abdul Kader, a handy guy and experienced founder of a TV repair shop in Gulshan, Dhaka, Bangladesh. He is mainly an expert in understanding and repairing different types of issues with Smart TVs and providing helpful insights on how to keep them in good working order. Read his Full Story.