In some cases, you may find yourself in a situation where you have lost your TCL Roku TV remote, but your TV is not connected to Wi-Fi.
In this scenario, you will need to find a way to connect your TCL TV to Wi-Fi without using the remote.
Let me tell you about my own experience!
Last night when I wanted to binge-watch my favorite show, I couldn't find the remote anywhere. I searched high and low, under the couch cushions and even in the kitchen, but to no avail.
Then, I scoured the internet for solutions, trying different methods and techniques that I found online. Although many of these attempts were in vain, my perseverance ultimately paid off when I came across a solution that did the trick.
Well, In this article, I will break down some of the wrong solutions you may find online, and guide you toward the exact solution that worked for me.
Here we go! Let's dive into it…
Can you really connect your TCL Roku TV to wifi without a remote using a Roku App or Mobile Hotspot?
Unfortunately, it is no longer possible to connect a TCL TV to WiFi using a Roku remote app or mobile hotspot.
This may have been possible in the past, but it is no longer a viable method for connecting your TV to the WiFi.
Some online guides may claim that you can use a mobile hotspot or Roku app to connect your TV to the internet without the need for a remote, but these claims are fake.
I can confirm this from my personal experience, as I tried to connect my own TCL TV using this method and was unsuccessful.
Then, how to connect TCL Roku TV to WiFi without a remote?
Well, there is still some way through which you can connect your TV to WiFi. These include using an Ethernet cable, a computer keyboard, or a mouse.
Method 1: use a computer keyboard or mouse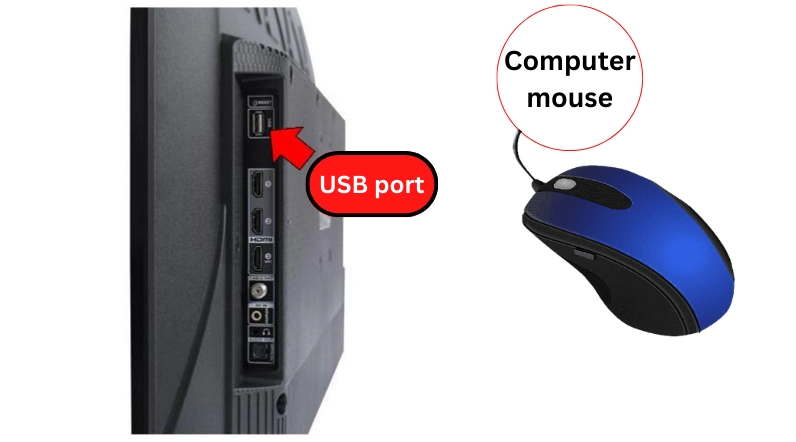 TCL TVs offer the convenience of USB ports that accept both wired and wireless USB mice and keyboards. This means that you can control your TV just as you would a computer by using a wireless or wired mouse.
Note: This method is only applicable to TCL Android TV users. If you are using a TCL Roku TV, please skip this section and proceed to the next method.
Here's how:
Plug in your mouse in the USB port.
Now, click on the Settings menu.
Go to the network section.
Choose your Wi-Fi network.
Enter the password.
Finally, connect to the internet.
It's really that simple. The mouse is a handy and convenient tool and will help you control your TV with ease.
Method 2: use an Ethernet cable to connect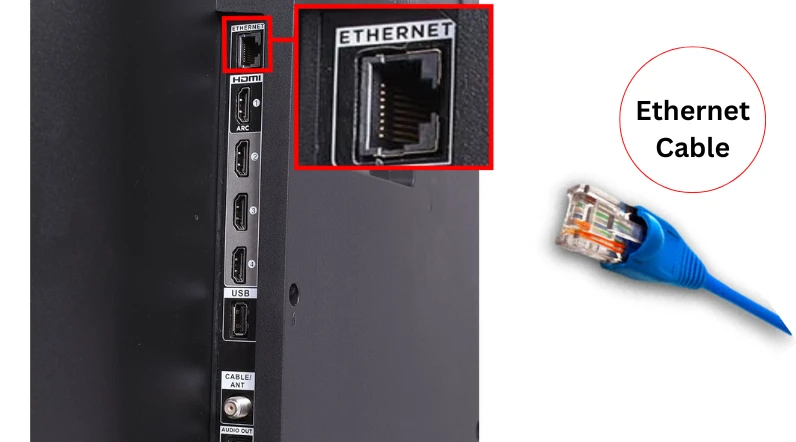 You might have skipped the first method if you are a Roku TV user. However, there is another option you can use to connect your TCL TV to the Internet without using any remote.
You can use an Ethernet cable to do so and this wired (LAN) connection will generally be more stable than a wireless connection.
Note: This option is only available on TCL Roku 4K TVs.
Here's how to do this:
Locate the Ethernet port on your TV. (It should be located on the back or side of your TV.)
Connect one end of the Ethernet cable to your router and the other end to your TV.
Once the cable is plugged in, check to see if your TV has successfully connected to the wired (LAN) network. If not, try restarting your TV.
Nothing worked! What next?
In this case, it may be best to purchase a new remote control. You can find a new one on Amazon or at a local vendor.
If you'd like to try fixing the issue yourself, we have a step-by-step guide that may help. You can find the guide at this link. However, if this guide doesn't help resolve the issue, it may be necessary to invest in a new remote control.
---
F.A.Q.s
Q: How can I control my TCL TV without a remote?
If your phone has an IR blaster built in, consider downloading a TV remote app. This app not only allows you to control your TV without a remote but also any device that can receive an IR signal.
WikiHow has a great guide on how to use your phone's IR blaster as a remote for the TV. Check it out here: https://www.wikihow.com/Use-an-Android-IR-Blaster
Q: Can I use a Bluetooth-enabled device to connect my TCL TV to Wi-Fi?
No, you cannot use a Bluetooth-enabled device to connect your TCL Roku TV to Wi-Fi.
You need to use an alternative method like a mobile hotspot or the Roku mobile app to connect your TV to Wi-Fi without a remote.
Q: Can I use my voice to connect my TCL Roku TV to WiFi without a remote?
If your TCL Roku TV supports voice control, you may be able to use your voice to connect your TV to WiFi without a remote.
Simply say "connect to WiFi" or a similar phrase, and follow the on-screen instructions to connect your TV to WiFi.
Q: Can I use any universal remote to connect my TV to Wi-Fi?
You can use a universal remote to connect your TCL Roku TV to Wi-Fi, but it must be compatible with your TV model.
Check the manufacturer's website or the user manual to find out which universal remotes are compatible with your TCL Roku TV.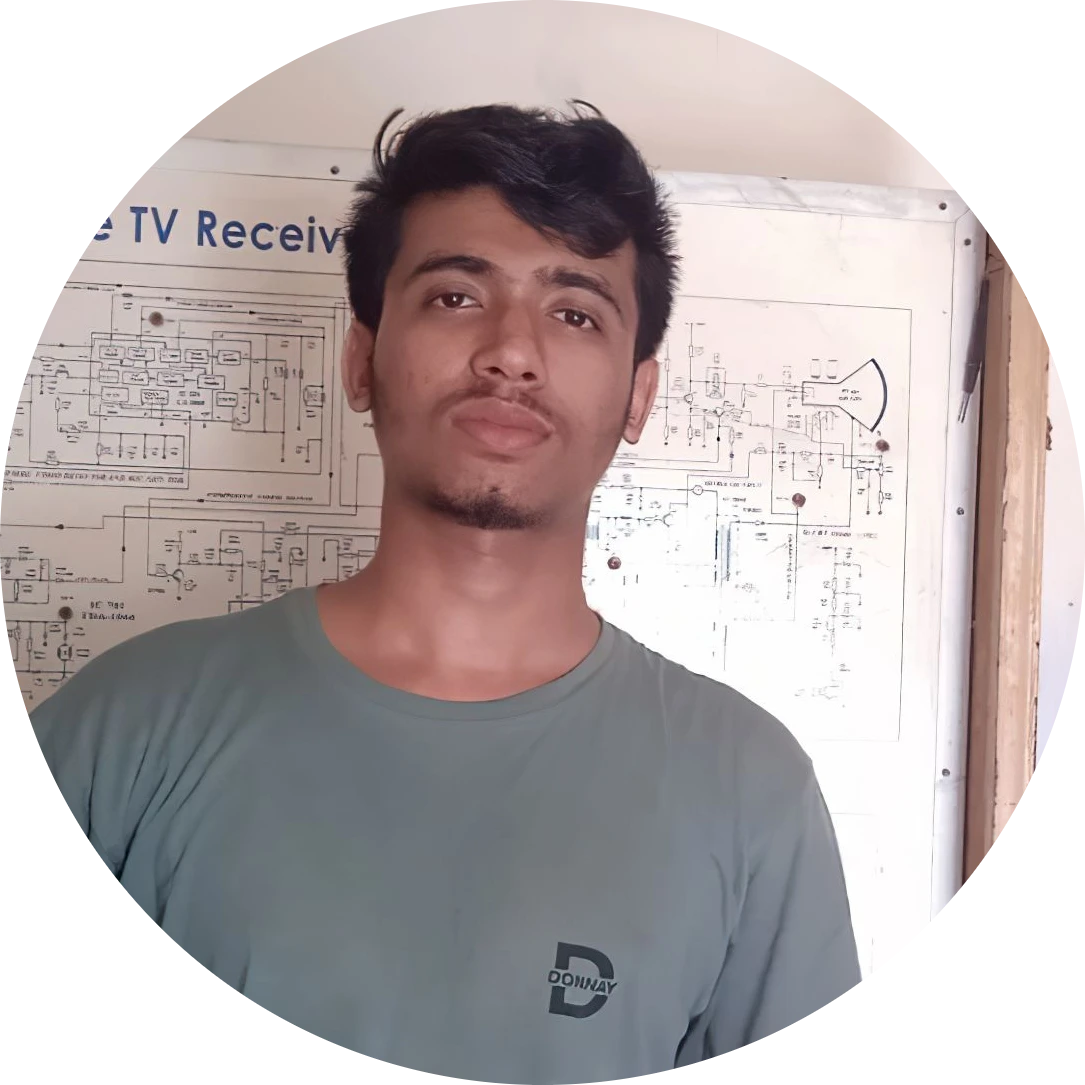 Abdul Kader, a handy guy and experienced founder of a TV repair shop in Gulshan, Dhaka, Bangladesh. He is mainly an expert in understanding and repairing different types of issues with Smart TVs and providing helpful insights on how to keep them in good working order. Read his Full Story.