If your LG TV has no sound, the most likely reason is a temporary system glitch.
Now, here are two possibilities:
You are using an external speaker via HDMI ARC or Optical Out.
You are using only the TV's internal speaker.
Most of the time, performing an HDMI or AV reset resolves sound distortion or crackling issues. However, at times, you might need to make some minor adjustments in the settings.
In this article, I will break down the process in an easy-to-follow way, so you can solve your LG TV's sound issues and get it working again.
Let's dive in…
How to Fix LG TV Sound Issue?
Perform an HDMI reset.
Adjust the HDMI ARC/Optical Out settings.
Reset the AV Settings.
Here are the detailed guidelines:
Step 1: Perform an HDMI reset
This process isn't similar to 'Power Cycling.'
In power cycling, you simply unplug the TV from the power outlet and then plug it back in after a specific period of time.
However, with an HDMI reset, the process becomes even more drastic.
In fact, 'HDMI reset' was a recommendation I received from Abdul Awal, a friend of mine, a long time ago.
It remains a troubleshooting step I utilize today whenever I encounter sound or other software-related issues with my TV.
Anyway, here's how:
Disconnect the TV from the power outlet completely.
Similarly, disconnect all the HDMI cables from the TV.
Wait 5 minutes.
During this time, press and hold the TV's power button for about 30 seconds.
Once done, power the TV back on.
Do the same thing with your external speaker. [If you're using one]
Now check whether the sound issue on your LG TV has been fixed successfully.
Step 2: Do a Sound Test to Solve LG TV Sound Issue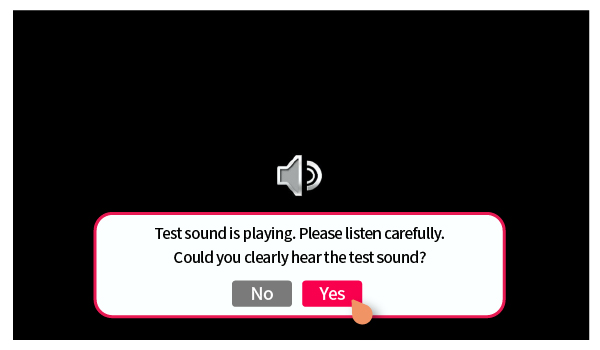 It's possible that the soundbar you're using might not be working correctly.
Or If you're not using one, the TV's own/internal sound system could have a problem.
But how can you figure this out?
Well, you can do a sound test to help with this situation.
Here's how:
Go to the "All Settings" menu.
Find "Support" and then go to "Additional Settings."
Choose "Sound Test" and turn it on.
When you turn on the 'Sound Test' feature, it will turn off any external sound system or speakers and use the TV's own speaker.
Now, listen closely!
If you hear sound, it's probably the external sound system that's not working right. But if you don't hear any sound, and it's the same as before, then the issue is with the TV's sound system/settings.
Proceed to the Next step…..
Keep in mind, in some newer LG TV models, like the OLED ones, the 'Sound Test' option might be called "Sound Self-Diagnosis." So, if you can't find "Sound Test," look for "Sound Self-Diagnosis."
Step 3: Configure the Sound Settings (Optical Out/ HDMI ARC)
Now it's time to look at the sound settings:
♦ Reset the HDMI eARC setting
First, check that the HDMI eARC setting on your TV is turned on. If it's already on, turn it off and then turn it back on again.
To do this, go to your TV's settings menu.
Find the sound or audio settings section. You should see an option named "HDMI eARC On/Off." Make sure it's switched to the "On" position.
♦ Reset the HDMI ARC
Not all LG TVs have the eARC option.
But in the same settings menu, you will find another option labeled "Sound Out."
Select it, and you'll find choices for changing the audio output mode.
Just pick "HDMI ARC."
You can also temporarily switch this to "Internal TV Speakers," and then switch it back to "HDMI ARC."
♦ Reset the "Digital sound" output setting
If the previous methods didn't solve the sound issue, there's another choice in the same settings.
Go to the 'Additional Settings' menu, then find 'Digital Sound Out.' Here, choose 'Pass Through."
If it's already set to "Pass Through," pick "Auto" instead.
After adjusting these settings, restart the TV and check if the sound is working now!
If still your LG TV has no sound, move on to the next step.
Pro Tip: Ensure that the HDMI or Optical cable you are using to connect the soundbar is functioning correctly and is securely connected on both sides. If the cable appears to be damaged, replace it with a new one.
Step 4: Test on multiple sources to Solve LG TV no Sound Issue
At times, LG TV no Sound issue is solely caused by a streaming service or even the media device you are using, such as Fire TV, Apple TV+, or Nvidia Shield, among others.
So, if you have trouble with sound only when using a specific app like Netflix, try using other services or devices to see if the problem continues.
This will help you figure out if the issue is about the particular streaming service or device you're using.
Quick Tip: It's also a good idea to reset the AV settings completely. To do this, just press the 'Mute button' on your TV remote three times. A message will appear on your TV screen. Click on 'Confirm' to reset the audio and video settings.
Step 5: Fix the technical issue
If configuring the sound settings, performing an HDMI reset or all other staff I mentioned above haven't solved your issue, there is a good possibility that the TV's internal audio components or the Audio port has been damaged.
It's very rare, but it happens.
♦ Check for a Broken HDMI Cable
Take a look at the HDMI cable that's connected to the ARC port on your LG TV and the matching port on your audio device.
See if the cable looks physically damaged or worn out.
If the cable seems damaged, try swapping it with a new, good-quality HDMI cable. This will help ensure a proper connection and that the signal is transmitted correctly.
♦ HDMI Port Problems
Try connecting the HDMI cable to a different HDMI port on both your TV and your audio device. This might fix the sound issue.
If the problem continues with all the HDMI ports, there might be a hardware problem that needs professional help.
♦ Speaker is faulty
Now the final decision is that your TV speaker whether it's internal or external, is damaged. Try connecting to a new speaker and check whether it works.
That's all you can do yourself.
If nothing fixes the issue, you have to contact with manufacturer or send the TV to an experienced repairer.
---
F.A.Q.s
Q: My LG TV has sound, but it's very low. How can I fix this?
If the sound is too low, ensure the TV's volume is turned up to an appropriate level.
Check if any external devices are connected that might have their own volume controls.
You can also go into the TV's audio settings and adjust settings like equalizer or volume leveling.
Q: I'm using HDMI for my setup, but there's no audio. What's wrong?
HDMI carries both video and audio signals.
If there's no audio through HDMI ARC, try these steps: check if the HDMI cable is securely connected, ensure the correct input source is selected on the TV, and check the device's audio settings to ensure it's set to output audio via HDMI.
Q: Why did my LG TV's sound suddenly stop while watching cable TV?
This phenomenon is known as 'sound cuts out intermittently.'
It commonly occurs due to a temporary system glitch.
Try restarting both the TV and the cable box. Also, ensure that the mute button isn't accidentally pressed on either device.
If the issue persists, it might be related to a cable signal problem or a technical issue with the service provider.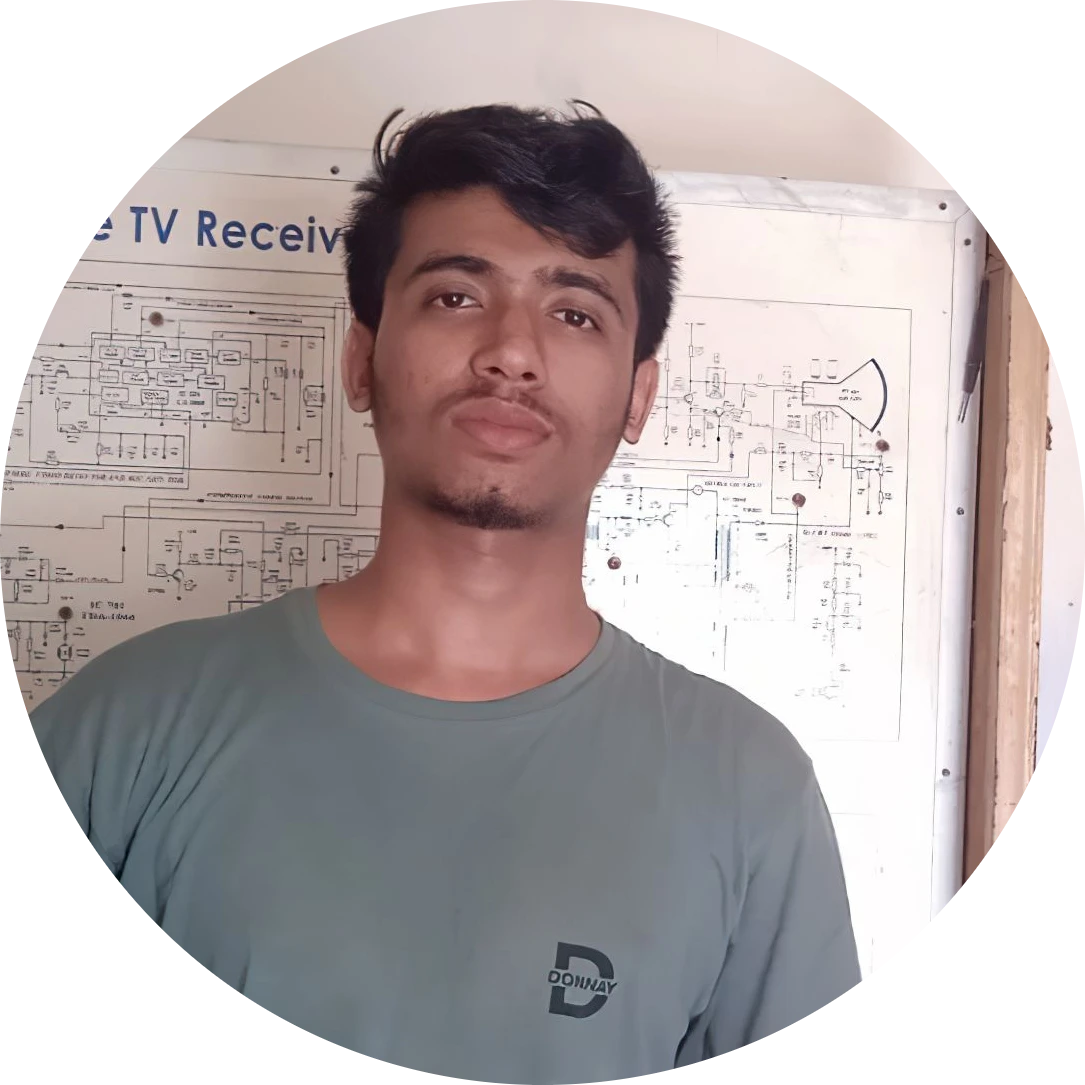 Abdul Kader, a handy guy and experienced founder of a TV repair shop in Gulshan, Dhaka, Bangladesh. He is mainly an expert in understanding and repairing different types of issues with Smart TVs and providing helpful insights on how to keep them in good working order. Read his Full Story.