If your LG TV's power button isn't working or is unresponsive, it indicates a problem with the button board.
Now, there are two possibilities:
The button board is faulty.
The button is jammed with dust or debris.
If the board is faulty, you'll need to replace it. However, if that's not the case, there are some basic steps you can take to try and fix the issue.
In this article, I'm going to explain some steps that might help you troubleshoot the issue.
Let's dive in…
How to Fix LG TV Power Button Not Working
Clean the power button and its area.
Replace the button board.
Here are the detailed guidelines:
Step 1: Power Cycle the TV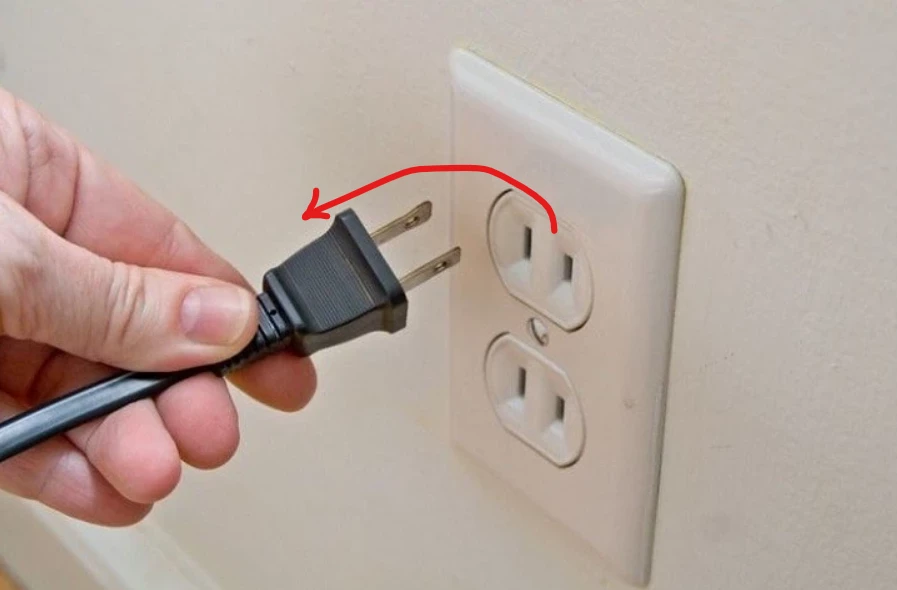 Okay, I know this is something no one even wants to hear.
But trust me, it really works!
TV is like a smart machine that uses a lot of fancy software to work smoothly.
And sometimes, even though the problem seems to be about the physical parts, it's actually a small glitch in the software that messes up the power button.
So, give it a shot!
Simply disconnect the TV from the power outlet and wait for 5 minutes. While you are waiting, press and hold the power button for about 30 seconds.
Once done, power the TV back on and check if the button is working now!
Step 2: Give a thorough cleaning
You might not think of it, but dirt and tiny things like dust can actually mess with your power button.
It's like having a pebble stuck in your shoe – not fun!
Over time, all this stuff can creep into the button and cause some real issues. It might make the button get stuck or not do its job properly.
However, here's what you have to do:
♦ Get a soft brush
This brush should have fine bristles that won't scratch or damage the surface of your device.
A small paintbrush or a soft cosmetic brush could work well for this purpose.
♦ Gently brush around the power button area
Start by turning off your device and disconnecting it from any power source.
Hold your device over a clean surface to catch any loosened debris.
Use the soft brush to carefully sweep around the power button, making sure to reach into any crevices or gaps. Be thorough but gentle to avoid pushing dirt further into the device.
♦ Use compressed air
If the power button area has stubborn dirt or dust particles that the brush can't remove, you can use a can of compressed air.
Hold the device at a slight angle and direct short bursts of air at the power button.
This can help dislodge and blow away particles that might be trapped.
Once you have done brushing and using compressed air, take a clean microfiber cloth and gently wipe down the entire surface of your device.
This will help remove any remaining particles and leave your device looking clean.
Step 3: Replace the Power Button Board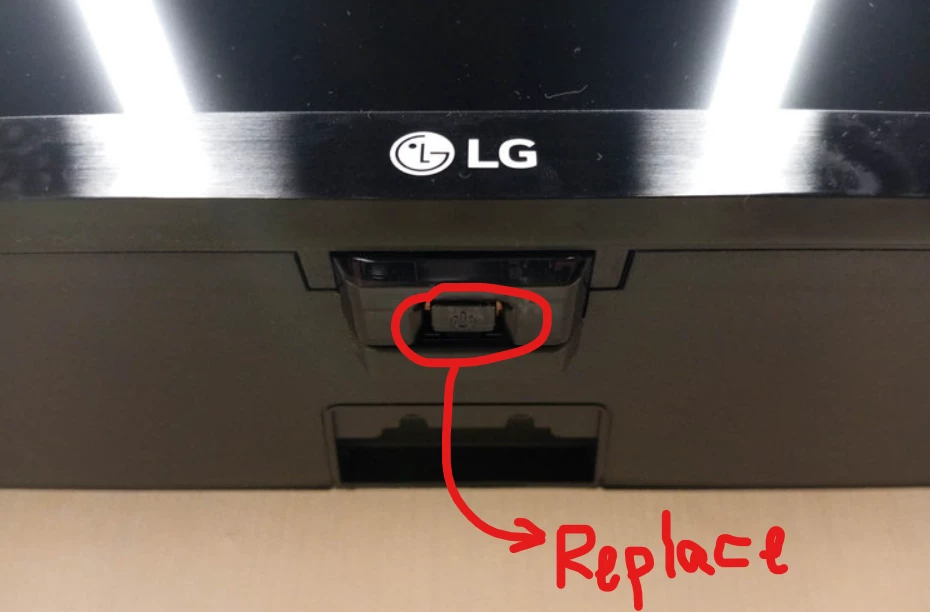 Alright, If power cycling and even cleaning the power button don't help fix the issue, the only way to get it working is by replacing the entire button.
Sometimes, the old board just gives up, and a new one can make everything work smoothly again.
Here's how to replace the power button:
Remove the back cover by unscrewing it with a screwdriver.
Locate the button board on your TV. It is usually a small rectangular board with wires attached to it near the buttons on your TV.
Disconnect the wires from the old button board and remove it from your TV.
Connect the wires to the new button board and attach it to your TV.
That's it…
Once you are done installing the new power button board, put the back cover and screw it back in place.
Now plug the TV back into the power outlet and try turning it on by using the power button.
---
F.A.Q.s
Q: Why is my LG TV power button not working?
There could be several reasons for this issue.
It might be due to a faulty power button, a software glitch, a remote control problem, or even an electrical issue.
Q: My LG TV power button is physically stuck. How can I fix it?
If the power button is physically stuck, avoid using excessive force to avoid damaging it further.
You can try using compressed air to blow around the button to dislodge any debris gently.
Q: Why is my LG TV's power button blinking, but the TV won't turn on?
A blinking power button often indicates a potential hardware or software issue.
It might be related to a failed firmware update, a power supply problem, or a malfunctioning component within the TV.
Q: My LG TV's power button works intermittently. What could be causing this?
Intermittent power button issues might be caused by loose wiring, a partially damaged button, or a weak connection.
If you have the technical skills, you can try carefully opening the TV and inspecting the button and its connections.
Q: How much does it typically cost to repair an LG TV power button issue?
The price tag for getting your LG TV power button fixed can swing quite a bit.
It all depends on stuff like which TV you have, how bad the problem is, and where you live.
Usually, you're looking at something in the range of 10 to 20 dollars, and that can depend on which specific model of TV you've got.
Now, here's the deal: if it's a minor thing causing the hiccup, it might not hit your wallet too hard.
But if the problem's a bit more complicated, you might need to dip a bit deeper into your pockets to sort it out.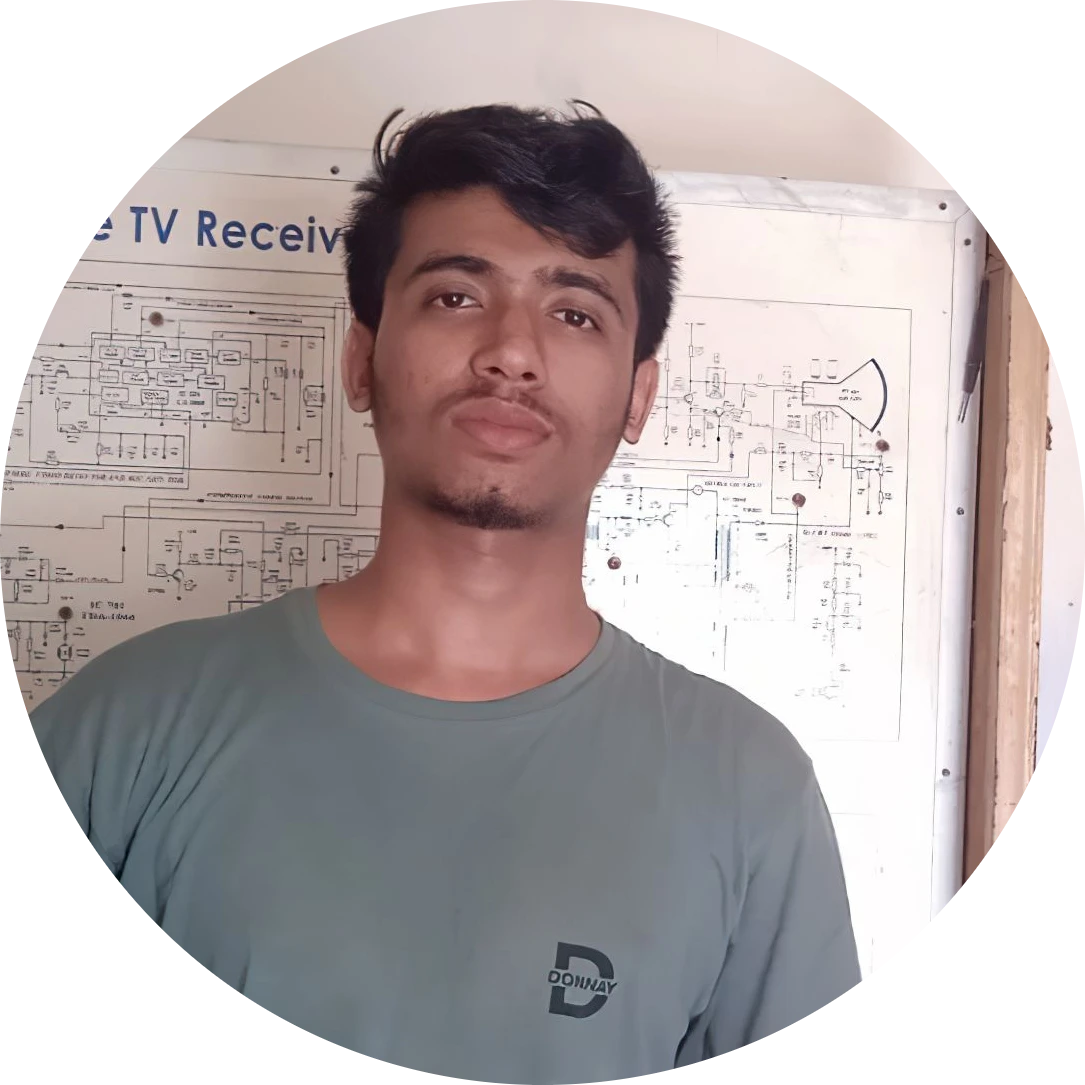 Abdul Kader, a handy guy and experienced founder of a TV repair shop in Gulshan, Dhaka, Bangladesh. He is mainly an expert in understanding and repairing different types of issues with Smart TVs and providing helpful insights on how to keep them in good working order. Read his Full Story.