Are you struggling to fix error 19 message in your Roomba? Hopefully, this article will give you some tips by which you will be able to fix it.
There's nothing worse than seeing your Roomba stuck on the corner of your kitchen rug, repeatedly making the same old loop-de-loop. That's why we've compiled this guide to help you fix Roomba Error 19 (also known as Stop Code 19 or Docking Error 19) on your Irobot Roomba.
By reading this guide, you'll learn how to troubleshoot the problem yourself and how to contact customer service if you can't figure it out yourself – so you can get back to vacuuming in no time!
Why does Roomba Error 19 occur?
Before diving into the solution, you need to know in detail about this error. Like "Error 26" and "Charging Error 8", Error 19 means that the battery of your Roomba robot was charged for 240 minutes but timed out before reaching full charge. So, if your vacuum's battery times out before getting its full charge, it will show you an error code 19.
Another possibility is that you can also get this error if your Roomba detects that the cliff sensor is activated near the docking area and is so dirty that it cannot identify the docking station or anything blocking it from docking or undocking.
How to fix iRobot Roomba Error 19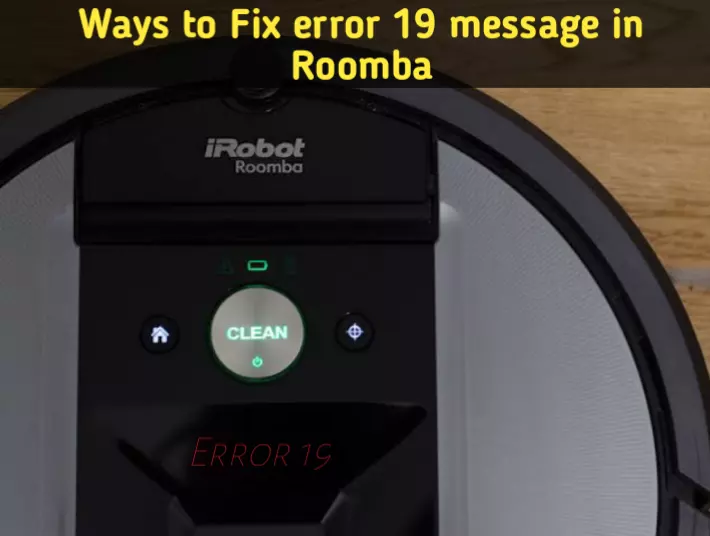 Well, now you know about this error, it will be easy for you to figure out what things you have to do to fix it.
To fix the Roomba error 19 messages, check the battery to see if it is installed correctly. If it is OK, check to see if Roomba's cliff sensor is dirty or damaged. The cliff sensors are located on the bottom of the Roomba, and they help the Roomba avoid falling off ledges and dock properly. But if all is well and you continue to have trouble with the Error 19 message, contact iRobot customer care for further assistance.
However, I will now go through some different and advanced methods you can use to fix the problem. But keep in mind that I am not giving you any guarantee that it will work. But you can try!
1. Check and reinstall battery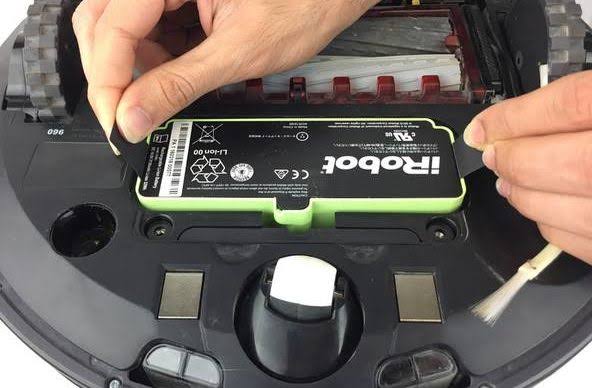 One of the simplest and easiest methods to fix Roomba error 19 is checking and reinstalling the battery correctly. As I mentioned before, Roomba can give you an error message of 15 if its battery is not charged correctly or the battery is not installed properly.
Reinstalling your Roomba's battery will act as a soft reset and can help you resolve temporary troubles with your Roomba.
To check and reinstall the battery, follow the below steps:
First, turn the Roomba backward.
Remove all the screws, including the one on the spinning brush, and loosen them all.
After then, remove the bottom cover and discard it.
Finally, remove the battery by lifting the two tabs.
Now wait for 10-20 seconds and put the battery back in.
Reassemble everything back by retracing your steps.
2. Unplug and replug the power cable
Unplugging and replugging the power cable from the wall outlet will sometimes fix your problem. Irobot says that Roomba error 19 occurs when the power is not going to the home base properly. In this case, if checking and reinstalling the battery doesn't fix your problem, then you should look into it.
First, unplug the power cord from the power outlet and the home base. Take a soft cloth, wipe away any dust from the charging connector, and then replug the cable. I hope this simple trick will work. If not, proceed to the next step.
💡 Check Also: Why does Roomba Charging Dock Light goes off?
3. Remove any obstacles from it's path
According to iRobot, Roomba could show you an error message with code 19 if it can't undock correctly or if anything like a doll or whatever blocks it from undocking. If you want to explore more to discover why your Roomba won't dock properly, read this detailed guide from the above link.
So, to fix this error, you need to make sure that there is no clutter around or near the home base of the machine because these obstacles may stop the device from navigating properly and force it to show an error.
4. Reboot your Roomba
You can try rebooting your Roomba. This will sometimes fix the problem (maybe). Remember that a reboot is not the same as a factory reset. You may only need to reboot your Roomba to resolve some fundamental issues.
On both the robot and the smartphone app, rebooting is more like a "force close." If your Roomba gives an error message, consider rebooting it before performing a factory reset.
Here's how to reboot a Roomba back to life-based on the series:
Roomba 500 and 600 Series: For 10 seconds, press and hold SPOT Clean and Dock.
Roomba 700, 800, and 900 Series: For 10 seconds, press and hold the CLEAN button on your robot. When you release the button, your Roomba will play the reboot tone.
Roomba i and s Series: For 20 seconds, press and hold the CLEAN button on your robot. The light ring will revolve clockwise in white when the button is released.
5. Factory Reset your Roomba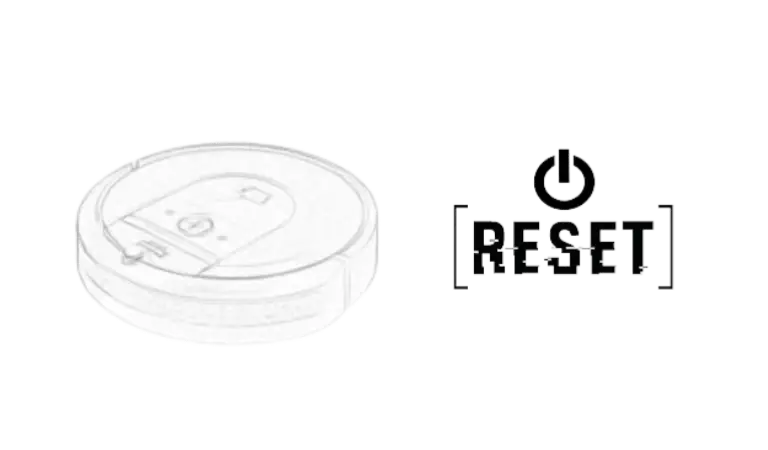 If you are still reading this article, then your Roomba may be experiencing a critical error like a software problem. In this case, a factory reset may solve this issue. To reset your Roomba to it's factory settings, follow the below steps:
Open the iRobot Home App on your smartphone.
Ensure that your mobile and Roomba are both connected to the same Wi-Fi network.
Now, select Settings from the drop-down menu.
And press the factory reset option.
The Roomba will restart to complete the reset. Wait patiently!
Remember that resetting your Roomba to its factory setting will delete all the information and saved configuration. You must reconfigure your Roomba and remap your house to use it again.
Even if no other method works, I hope resetting your Roomba to its factory settings will definitely fix your Error 19 issue. Let me know in the comment box if it works or not!
What to do if nothing works?
Based on my research, I tried my best to provide information on how you can fix your Roomba's Error 19 message. If you are still struggling with this error, you should contact iRobot customer care. They will fix your problem over the phone.
Last few words
If you still have problems, there is nothing that I can do for you. However, I was hoping you would share your experience with me in the comment box. Stay healthy and be happy with your cleaning assistant. See you in the next article. Good bye!