Cable and satellite industry is experiencing a significant decline in subscribers.
Many cable providers, including Comcast and DIRECTV, have reported losing millions of subscribers in recent years.
This decline is not just due to the rise of streaming services, but also because of the high prices and carriage demands from programmers.
In this report, we will try to break down the whole system, cord-cutting statistics, and why they are losing this kind of massive subscribers.
Let's dive in…
Statistics & Trends of Losing Customers
According to nationalinterest.org, traditional pay-TV providers lost around 6 million pay-TV subscribers each year from 2019 to 2021.
Over the past 11 years, around 25 million people in the US have stopped subscribing to traditional cable and satellite TV services.
Experts predict that another 25 million people will do the same by 2025.
Instead of just giving up on TV altogether, most people are switching to digital streaming services like Sling TV, YouTube TV, FuboTV, and Hulu+ Live TV.
Among the cable TV providers who are losing subscribers, the largest ones are:
1. Comcast: In the third quarter of 2021, Comcast had 18.55 million video customers. But in just the first six months of 2022, it lost over a million customers. And now, in the first three months of 2023, it has reported a loss of 614,000 video customers in its earnings report.
2. Charter: The company that owns Spectrum is losing lots of video customers every year. In the first three months of 2023, they lost 241,000 TV customers. The CEO thinks that the reason for this is that programmers are making their fees higher. This is making customers choose to switch to cord-cutting services instead.
3. Verizon: In the first half of 2022, Verizon lost over 150,000 Fios TV subscribers. And now, in the first three months of 2023, it has lost 335,000 Fios TV customers. This is about 9.6% less than the year before.
Here's a report from Axios on how frequently customers are shifting to non-pay TV.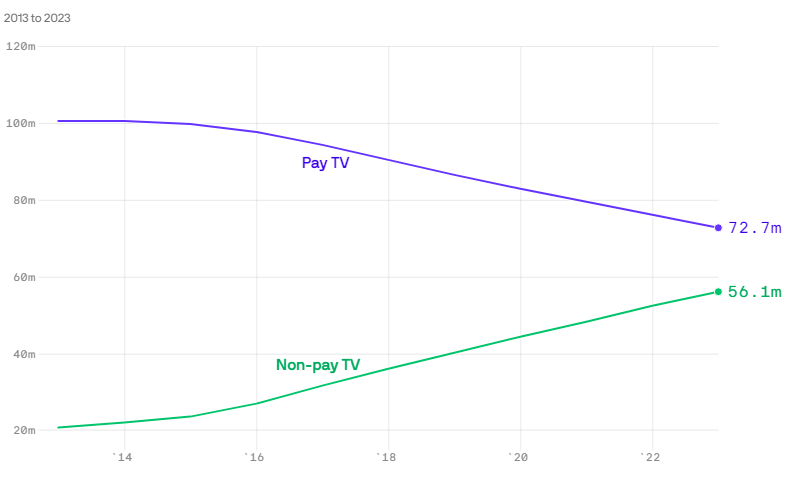 Understanding the issue
Well, first let's understand how the cable and satellite industry operates!
Cable and satellite companies purchase the rights to distribute programming from various networks and channels, which they then package together into bundles and sell to their customers.
These bundles include different tiers of programming, with higher-priced packages offering more channels and premium content.
That's fine so far! But the problem began here!
Over the years, Networks and channels have been demanding more money from cable and satellite operators to carry their signals.
If they refuse, the networks may threaten to pull their signals, which would force the pay TV operators to explain to an angry customer base why their favorite programs are no longer available. [Exactly this happened recently between Nexstar and DirecTV.]
This puts the cable and satellite services in a terrible situation.
To keep their customers happy, they often pay the carriage fees demanded by the networks, which is a significant cost for them.
However, they then pass these costs on to their customers through higher monthly bills and additional hidden fees to keep their business in balance.
Here's the game:
Networks demand more money to carry their signals.
Networks pulling their signals if pay TV operators refuse to pay.
Pay TV operators pay up to keep the customers happy.
Then they pass the costs along to their customers.
Cost Burden on Customers and Cable and Satellite Industry is Losing Millions of Subscribers
As just discussed, Cable and satellite operators often pay higher carriage fees to networks, and those costs are passed on to customers through higher monthly bills.
What happened next?
Many customers have opted to cancel their traditional TV subscriptions and switch to cheaper streaming services such as Netflix, HBO Max, Peacock, and Hulu.
The availability of exclusive content and the emergence of cheaper options have fueled this shift toward streaming services.
Customers are now happy with their decision to cut the cord as they are saving a significant amount of money on their TV bills.
The trend of cord cutting
Cord cutting has become an increasingly popular trend in recent years.
With the rise of services like Netflix, Hulu, and Amazon Prime Video, many people are choosing to forgo traditional cable packages.
Insider Intelligence reported that the number of cord-cutting households in the United States increased by 17.7% in 2022, jumping to 43.0 million.
The report forecasts that the number of cord-cutting households will increase another 10.8% to 47.6 million by the end of 2023, which would exceed one-third (35.9%) of households for the first time.
Here's Google Trends data from 2015 to the end of 2020
This trend has been going on for a while and shows no signs of stopping. From 2015 to the end of 2020, people were searching more for live TV streaming services like Hulu TV, and YouTube TV and cutting cords.
Now in 2023, Netflix is on fire and is the most-searched vMVPD on the market right now.
Look at this:
So, what led to this?
The main driver of this is cost.
Traditional cable and satellite packages are quite expensive, with many customers paying upwards of $60 per month for a package. In contrast, streaming services are much more affordable, with options like Netflix starting at just $9.99 per month.
The Irony of the Situation
Due to the gradual decrease in subscribers, many networks are now crying, as they are not making as much money from the cable and satellite bundle as they expected.
This situation was avoidable, but greed played a significant role.
Networks wanted more money and cable and satellite operators wanted to keep their customers happy. For this, they paid the higher fees but then passed on the costs to customers in the form of higher monthly bills and hidden fees.
"Sin spares not even fathers."
That said, this strategy worked for a while but eventually led to cord-cutting and the rise of streaming services.
Abdur Rahman is a seasoned journalist who covers all things related to TV and streaming. As of May 2, 2023, Abdur is writing for Homespoiler.com. More about him