2023 is the dying year for cable companies like Comcast, DirecTV, Dish, Charter, and more…
Over the past few decades, these traditional giants of the entertainment and information industry have steadily lost their grip on consumers' preferences, and the year 2023 seems to mark a turning point toward their inevitable decline.
In just the first half of 2023, cable TV companies have collectively lost over 2.7 million subscribers.
Not to say, this is the result of the CORD CUTTING Trend.
Cable TV Subscribers Loss Statistics in 2023
Cable TV lost almost 2.7 million subscribers in 2023.
Comcast had the largest subscriber loss in Q2 2023 with -543,000 subscribers.
DirecTV lost 400,000 subscribers in Q2 2023.
Charter saw a loss of 200,000 subscribers in Q2 2023.
Dish TV's subscriber loss in Q2 2023 was 197,000.
Comparison with Earlier Years
If we compare these losses with what happened last year, the trend becomes even clearer.
In the second quarter of 2023, the big cable companies lost around 1.73 million video subscribers altogether.
This is way more than the loss of about 1.72 million subscribers during the same time in 2022 which shows that people are moving from cable TV to streaming services much faster.
Notably, even the hope that cord-cutters would migrate to live TV streaming services has been dashed, as platforms like Hulu + Live TV and Fubo experienced a combined loss of 509,000 subscribers during the same period.
Looking at Specific Companies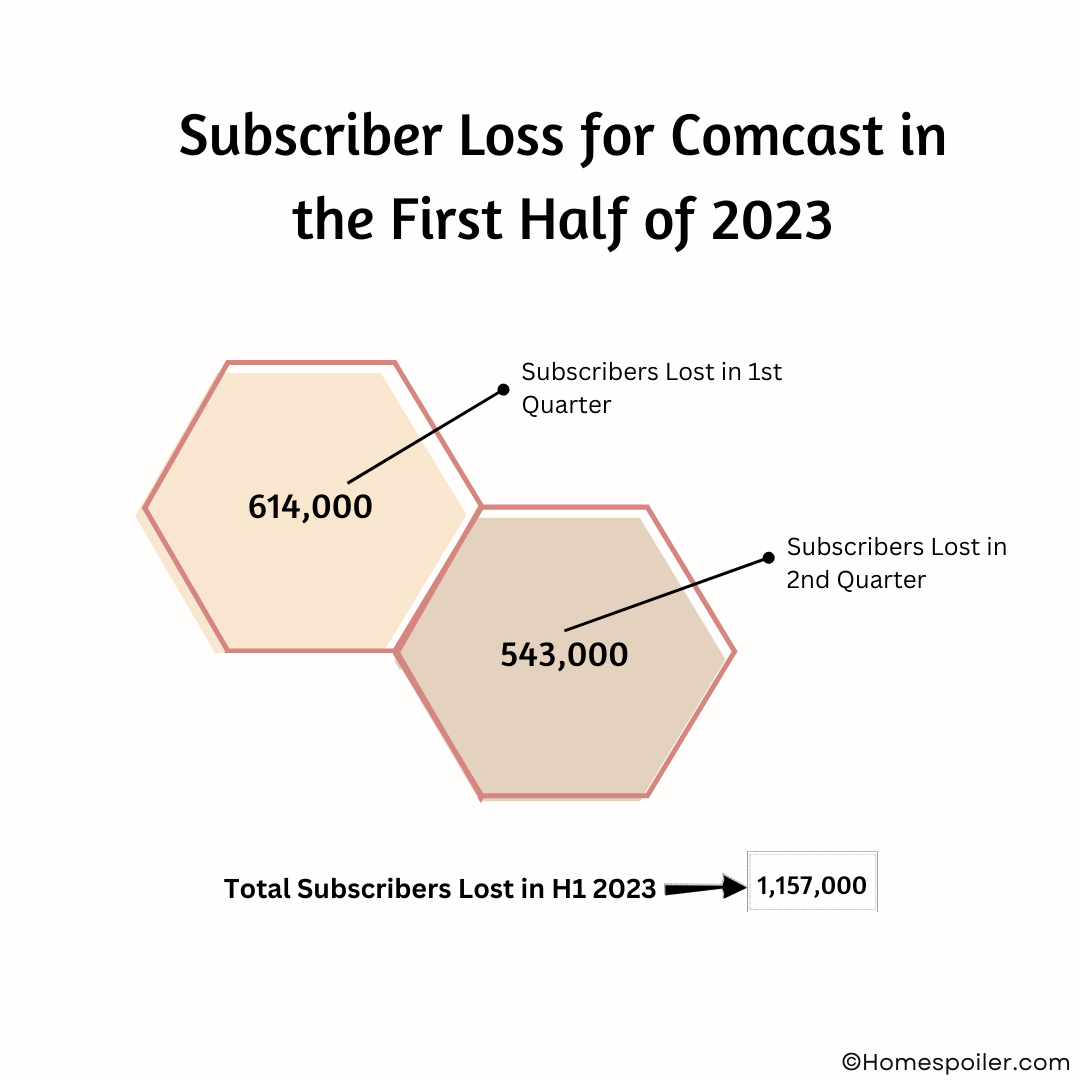 One of the big cable companies, Comcast, has been hit really hard.
They lost over 1.15 million TV subscribers in the first half of 2023.
This is split into 614,000 subscribers lost in the first quarter and 543,000 in the second.
We don't have exact numbers for DIRECTV, but it's estimated that they lost over 750,000 subscribers. Spectrum did a bit better, but they still lost 441,000 subscribers during the same time.
What It Means for Regular TV
Companies like Comcast, Warner Bros. Discovery, and Disney are focusing more on streaming now. This means fewer people are watching regular TV.
But there's a question about whether these streaming investments are making enough money.
Even though streaming is getting popular, people are still wondering what will happen to regular TV channels.
Challenges for Streaming Services
Streaming services were doing well at first, but in the second quarter of 2023, they lost around 115,000 subscribers overall.
This is a big change from the loss of about 65,000 subscribers during the same time last year.
This shows that there's a lot of competition now, and it's really important for these services to keep coming up with new and exciting things to watch.
What Experts Say
Industry experts believe that the metrics for linear TV have seen a decline. Public pay TV operators have reported a weighted average drop of 9.6 percent in subscribers year-on-year.
Nollen said in an Aug. 14 investors note:
"We think the metrics for linear TV are all bad. The public pay TV operators (cable, telco, satellite) that we track reported a weighted average 9.6 percent drop year-on-year in subscribers, and the media network groups' affiliate fee revenues were down 2.5 percent."
Nollen points out that the struggles extend beyond subscriber losses.
Media network groups that rely on affiliate fee revenues have also experienced challenges, with these revenues decreasing by 2.5 percent.
This decline in affiliate fee revenues suggests a broader economic impact on the traditional TV ecosystem, likely resulting from decreased viewership and shifts in advertising dynamics.
Even though streaming services have been growing really fast, it looks like they might be slowing down a bit. This could be because so many people are already using them, and the excitement of something new is wearing off. Because of this, it's possible that
regular cable TV is on its way out
, and we're going to see some big changes in how we get our entertainment.
♦ Information Sources: Leichtman Research Group and the companies.
Abdur Rahman is a seasoned journalist who covers all things related to TV and streaming. As of May 2, 2023, Abdur is writing for Homespoiler.com. More about him