A step-by-step guide to resolving charging error 5 on a Roomba.
---
Has your Roomba been beeping, trying to tell you something is wrong with the charging or floor sensor? If so, then you're not alone. Like charging error 8, Error 5 is also one of the most common issues that iRobot's little vacuums encounter.
There are several fixes and tricks that can help you get your Roomba working again without having to spend hundreds of dollars on replacement parts or entirely new vacuums. Below are some common reasons why your Roomba might be displaying this error and simple ways to eliminate the problem.
Why does Roomba charging error 5 occur?
Roombas are designed to charge automatically, and if you have a Roomba displaying "charging error 5", it's likely because your Roomba is not charging correctly. However, let's talk about exactly why your Roomba shows this error.
First, it's important to note that most issues with electronic devices begin with poor-quality cords or ports. If your cable does not fit securely on either end, you may receive any number of errors like this. Another great possibility is that the charging connectors on both Home Base and Roomba are dusty. As a result, your vacuum can't connect itself with the home base, giving you this error code.
Before diving head first into these troubleshooting tips, check both ends of your power cord for any signs of damage. If they're damaged in any way, be sure to replace them immediately to prevent further damage to your Roomba and avoid future errors.
Steps to fix Roomba Charging Error 5 issue
To.fix this issue, first ensure that the charging dock is clean and free of debris. If anything is blocking the charging contacts, Roomba will not be able to charge correctly. Next, check the charging cable and make sure it is not frayed or damaged in any way. If neither of those solutions works, you may need to reset your Roomba. If you still have trouble after resetting the Roomba, you may need to replace the battery.
You can leave the page if your problem is fixed. However, continue reading if you want to learn more about this issue and its solution.
1. Clean the connectors of the Battery and Terminals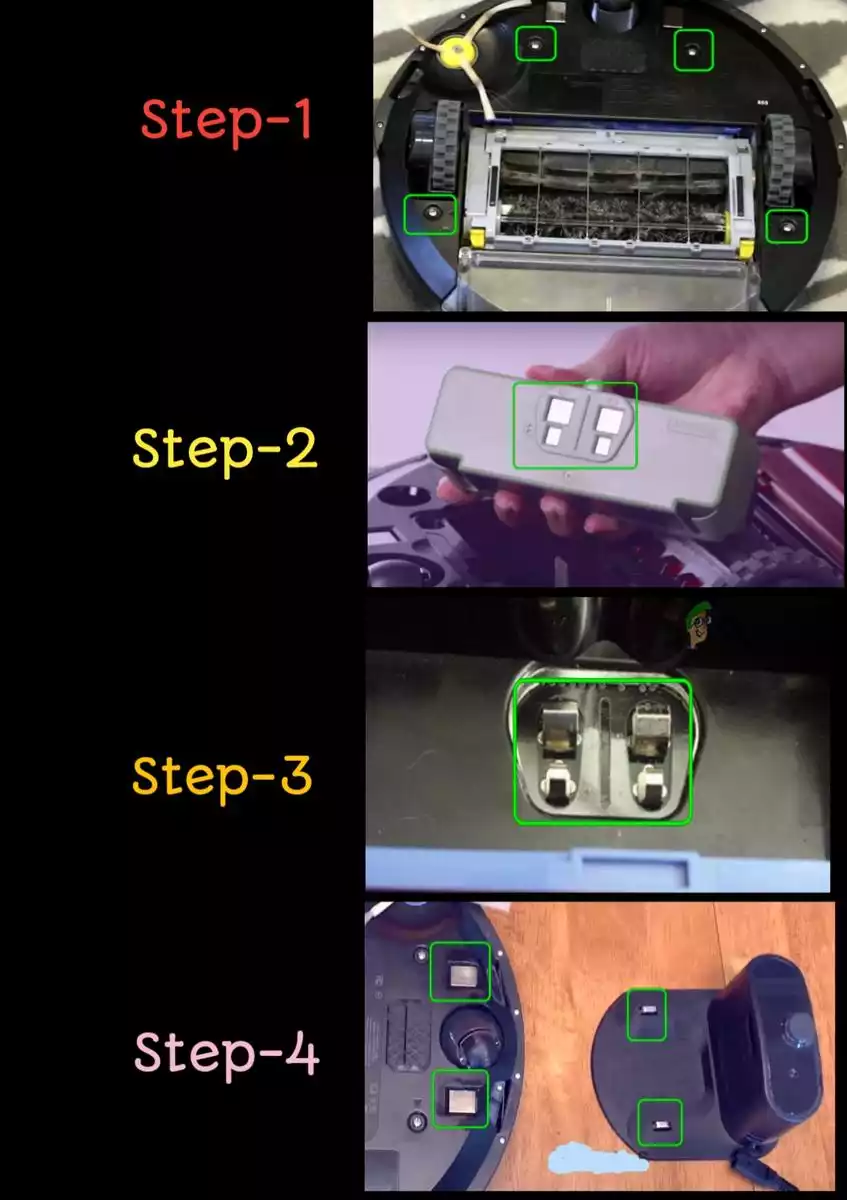 As I mentioned, if the terminals of the battery or dock have gathered carbon (or dust) over them, your Roomba will not charge, and it may display "Charging Error 5". In this case, cleaning the charging connectors of both Home Base and Roomba may fix the problem. To do so, follow the below steps:
Remove the bottom cover and the four screws on the bottom of the device.
After that, double-check that the yellow battery tag is entirely removed (if it's a new unit).
Check to see whether any of the connections or terminals are broken, and then fix them.
Then, using a pink or magic eraser, wipe the battery terminals and dock connections.
Reattach the bottom cover and reinstall the battery.

Clean the Roomba's

charging points as well.
After that, charge your Roomba for at least 16 hours and check if the problem is fixed!
If it doesn't work, try rubbing alcohol to clean the battery and dock terminals. I hope this simple method helped you. If not, move to the next step.
2. Clean everything thoroughly.
One of the effective solutions, like many other Roomba errors, is to clean the hardware thoroughly. This ensures that no dust or dirt gets into the spaces surrounding the battery and docking plates, which can cause problems.
Remove the battery and clean the interior and outside with a dry cloth.
3. Reboot/restart your Roomba.
Another great option to fix "Charging Error 5" is rebooting your Roomba. It may seem hilarious, but in many cases, just rebooting your device will fix the problem.
So, to reboot your Roomba, continuously press the "Docking" and "Spot" buttons for about fifteen seconds. After that, charge your Roomba for at least 16 hours with the charging cord plugged directly into the vacuum (do not use the docking station).
4. Replace your Roomba's Battery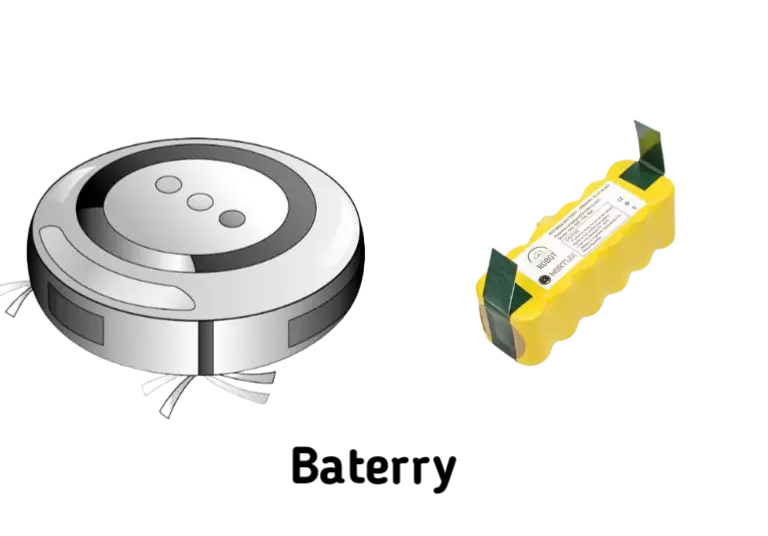 It is also possible that the battery on your vacuum has been damaged. As a result, the Roomba can't charge itself, thinks something is wrong and throws you "charging error 5" message. So, try replacing your vacuum's battery and see if it works!
To replace the battery, start by removing the battery cover. On most Roomba models, this is located on the bottom of the unit.
Next, remove the old battery. This is usually held in place by two clips.
Now, install the new battery. Make sure it is properly seated and secured in place.
Finally, replace the battery cover.
That's all. With a new battery, your Roomba should start working again.
5. Hard Reset your Roomba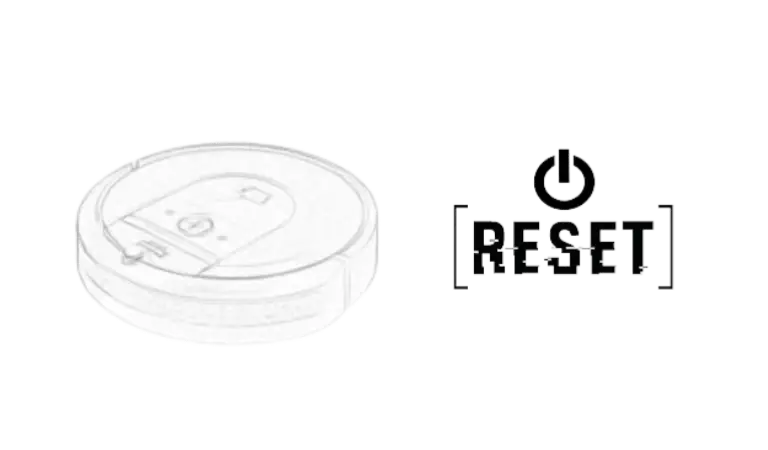 Are you still reading this article? It isn't good! Now there is only one option that you can do, which is to reset your device to its factory settings. If you are a proud user of the Roomba i7 series, you can follow this particular guide to reset your Roomba i7.
Remember that if you perform a factory reset, all the saved settings, including mapping on your Roomba, will be erased. You have to reconfigure your Roomba and remap your entire house.
As long as your smartphone is connected to the same wifi as your Roomba, you can execute this via your iRobot app. But if you want to reset your Roomba manually, click the above link and read the guide. To do that via the Home App, follow the below guide:
First, Open i-Robot Home App
Go to

settings

.
Finally, select and tap on "Remove/Factory Reset."
Now your Roomba will take a reset and will return to its factory settings. After a hard reset, I hope your problem will be solved.
---
FAQ
1. Nothing worked! What to do?
In this case, you have nothing else to do. But yes, you can try buying a new home base. It's possible that the charging dock is malfunctioning, which is why your Roomba isn't charging.
But if the problem remains even after buying a new charging dock, contact Irobot Customer Care.